Concessions
Additional Items to try:

Big 12 Eats and more – located at Knight Nation Grill, and Inside the Stadium Club

Kent State – Doughnut Burger

Villanova – Philly cheesesteak

Baylor – Mini Brisket Sliders

West Virginia – Pepperoni Roll

Oklahoma State – Bacon Cheese Fries

Houston – Beef Brisket Tacos
Water Stations 
Filtered Water Bottle Filling stations will

be located in

the Frank Gay Cool Zones and gate 10 on the concourse level.

Personal water bottles and drinking containers are encouraged. 

Disposable cups will be provided at each station.
Guest Services/Stroller Check-in  
A guest service station will be

located

on the east and west side of the

stadium

 .

The area is restricted to strollers only--no other personal items may be checked (unapproved chair backs, umbrellas, bags, etc.).
Game Day Safety Notice - Fireworks, Pyrotechnics, and Flashing/Strobing Lights in use
In preparation for an exciting game day, we want to inform you that we'll be using fireworks, pyrotechnics, flashing, and strobing lights during pregame and throughout the game. These effects, while adding to the excitement, may adversely affect those with epilepsy or other noise or photosensitive health conditions.
The stadium first-aid facility

is located in

the northeast corner of the stadium on the main concourse adjacent to Gate 10.

An additional first-aid station is located on the main concourse across from Gate 18 (behind Section 106).

Orange County Fire Rescue teams will

provide

emergency medical services on the campus and in the stadium on game

day

 

 
Merchandise
Barnes & Noble Bookstore on East Plaza Drive 

Gameday hours:

Opens when Tailgate Opens 
Closes one hour after the game 

Stadium Merchandise Locations

 

There will be four merchandise locations at the stadium: IOA Plaza, inside Gate 3, inside the Stadium Club, and on the east side of the stadium inside Gate 14.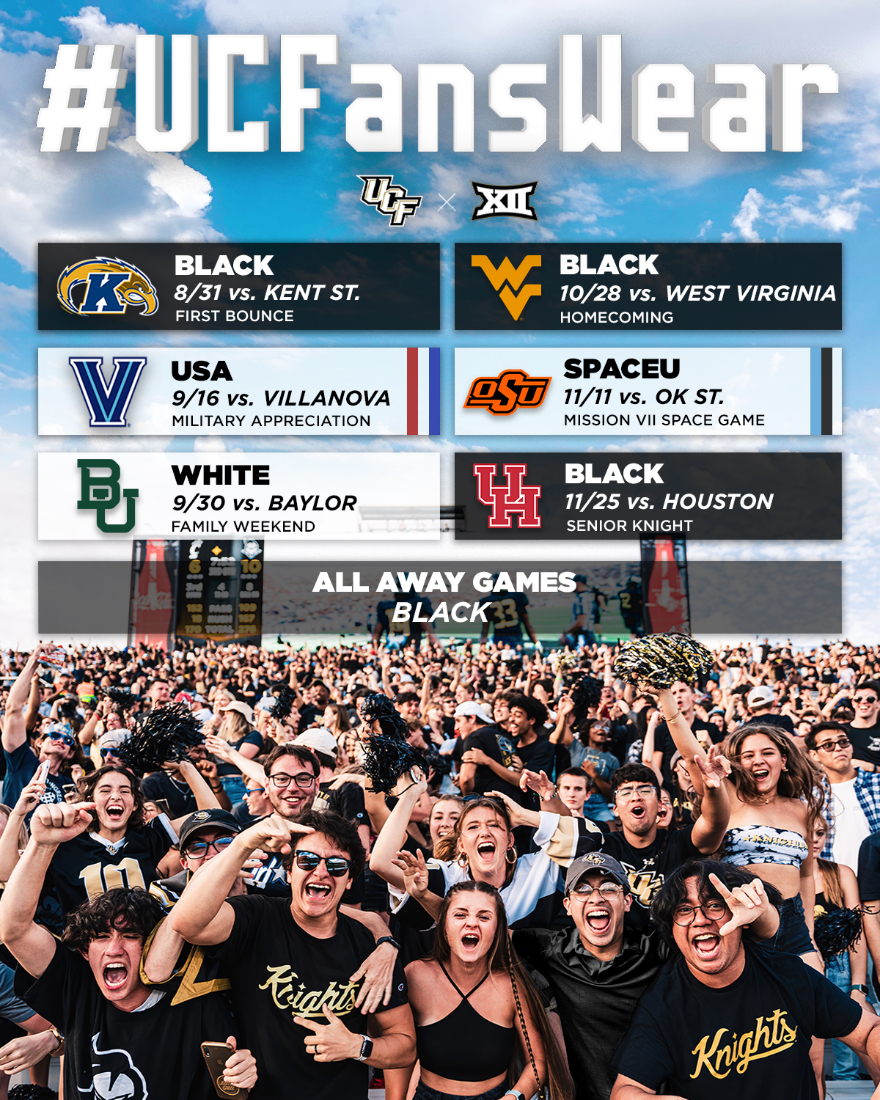 Severe Weather Statement
UCF Athletics, in close consultation with UCF Emergency Management and the National Weather Service office in Melbourne, closely monitors local weather on game day.
When lightning/inclement weather is detected within 15 miles of the stadium, announcements will be made to notify fans that we are monitoring the weather. Per UCF and conference protocol, gameplay will be paused if lightning is detected within 8 miles of the stadium. The game may not resume sooner than 30 minutes following the last strike within the 8-mile radius.
UCF monitors weather and has policies and procedures in place but each situation is different. The most likely scenario in an inclement weather situation is for fans to Shelter in Place. If inside the stadium, this often means leaving the open-seating area and taking shelter on the concourse, however, we advise everyone to follow the instructions given at the time.
We do not advise fans to leave FBC Mortgage Stadium during an inclement weather situation, however, fans who choose to do so will be allowed to re-enter with their ticket stubs. Those not already inside the stadium may opt to take cover in their vehicle