2023 INFORMATION
UCF is committed to providing an exceptional gameday experience for all fans.
This Gameday Guide has been created to help fans find all the information you're looking for 2022-2023 UCF Baseball home games at John Euliano Park. Please note, our Gameday Guide and policies are subject to change.

Go Knights and Charge On!

APPROVED BAGS AND ITEMS
Bags (permitted) – CLEAR BAGS ONLY
Bags that are clear plastic and do not exceed 12" x 6" x 12"

One-gallon clear resealable plastic storage bags

Small clutch bags or purses do not have to be clear but cannot exceed 4.5" x 6.5"

3.4 oz. individual-sized hand sanitizer bottles, sanitary wipes, and all applicable medical exceptions for the 2023 season
Bags (prohibited)
Purses, diaper bags (items normally carried in a diaper bag must be put into a clear plastic bag for venue entry), cases (camera, binocular, etc.), backpacks, printed pattern plastic bags, reusable grocery totes, mesh or straw bags, duffle bags, large totes.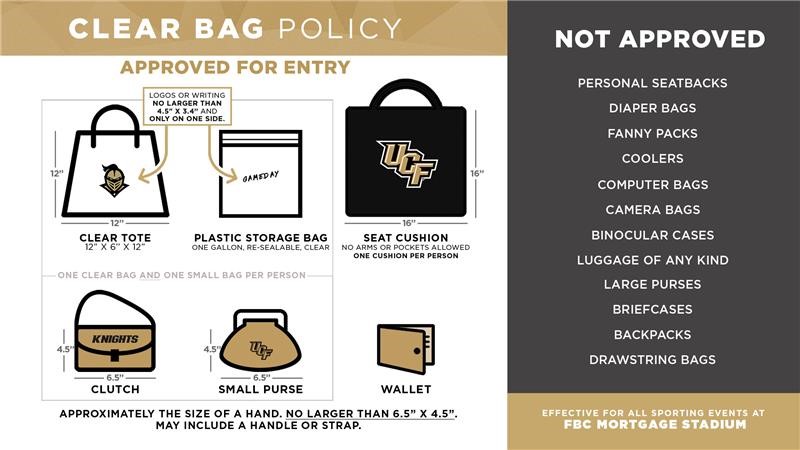 ARRIVING AT JOHN EULIANO PARK
DOWNLOAD YOUR TICKETS AND PARKING
Season ticket members and single-game buyers can access their tickets and parking by downloading the official UCF Knights App or by visiting www.UCFKnights.com/Login from their mobile device. The app is available for free on both Apple and Android devices. Click here for a step-by-step guide to manage your mobile tickets.

FANS ARE STRONGLY ENCOURAGED TO LOGIN AND SAVE TICKETS AND PARKING TO THEIR MOBILE DEVICE PRIOR TO ARRIVING ON CAMPUS TO AVOID CONNECTIVITY ISSUES ON GAMEDAY. Screenshots, photocopies, and pictures of hard tickets will not be permitted for entry**.

iPhone App: Download
Android App: Download
Mobile Website: www.UCFKnights.com/Login

CHARGEON FUND
Charitable gifts make a significant impact on the growth and success of UCF Athletics and the lives of our 435 student-athletes.

An individual or company who makes a charitable gift to UCF Athletics of any amount becomes a UCF Athletics donor to the ChargeOn Fund. Donors are then recognized based on the level of their gift. Those who give?less than $5,000?on an annual basis become part of the UCF Athletics Annual Fund, while those who donate $5,000 or more on an annual basis become a member of the?Shareholders Society?with exclusive, unique engagement opportunities at each level of recognition.

To help us continue to build the future of college athletics and invest in the lives of our student-athletes, please GIVE NOW. For more information, please contact the ChargeOn Fund team at ChargeOnFund@UCFAthletics.org.

CONCESSIONS
Provided by OVG 360
Concourse locations will be throughout the main concourse on the 1st base line, main entrance and 3rd base deck.

New family friendly concessions menu, the 321 menu, featuring 6 items for $3 and under

Specialty items for specific games will be available throughout the season.

DIGITAL TICKETING
Beginning last year, UCF Athletics transitioned to digital tickets, joining our Orlando and NCAA counterparts. All season tickets, group tickets, and single game tickets are available digitally through the UCF Gameday app or your phone's web browser.

iPhone App: Download
Android App: Download
Mobile Website: www.UCFKnights.com/DigitalTix

WHY DIGITAL TICKETS?
Safety

Going mobile is the safest, most convenient, and flexible way to receive and manage tickets while increasing protection against fraud. It is part of our continuing effort to make your UCF experience the very best. Mobile tickets provide:
Reduced risk of lost, stolen, counterfeit or forgotten tickets.

Quick and contactless entry into the venue.

The ability to manage, send, sell, or donate your tickets at any time from your mobile device.
Flexibility - Real-time changes to event dates and times are reflected immediately on digital tickets. Mobile tickets also allow guests to manage tickets from their mobile phone through their UCF Athletics Account Manager. That includes the seamless transfer, resell, or donation of tickets via the UCF Gameday App.

Efficiency - The streamlining of the gate entry procedure.

Ease of Use, Peace of Mind - Through your UCF Athletics Account Manager, you always have your tickets on you. You may download, transfer, exchange or resell your tickets at any time. It also adds a layer of security, guarding against the production of fraudulent and counterfeit tickets.

HOW TO USE DIGITAL TICKETS?
The full digital ticket guide with step-by-step instructions for logging in, saving tickets, transferring tickets, and reselling tickets can be found HERE.

** SCREENSHOTS AND PRINTED SCREENSHOTS WILL NOT BE ACCEPTED AT THE GATE. FANS ARE STRONGLY ENCOURAGED TO LOGIN AND SAVE TICKETS TO THEIR MOBILE DEVICE PRIOR TO ARRIVING ON CAMPUS TO AVOID CONNECTIVITY ISSUES ON GAMEDAY. **

Additional answers to frequently asked questions can be found HERE or by calling the Ticket Sales & Service team at 407-823-1000.

KNIGHTRO'S KIDS CLUB
Knightro's Kids Club members will have plenty of fun surprises this season! Members will receive free admission to specific baseball games. Check out the Knightro's Kids Club app for upcoming events, special prizes and exclusive experiences for members only! For every game you attend, make sure you open the app to earn your points.

Members get the chance to join the team for gameday batting practice, play ball kids and announce the innings.


MERCHANDISE
The Barnes & Noble Portable trailer will be open on game day, fans will also be able to shop at the Barnes and Noble Book Store for a more wholistic shopping experience.
Gameday hours vary by day of the week:
Mon 8am-7pm

Tue 8am-7pm

Wed 8am-7pm

Thu 8am-7pm
Fri 8am-5pm

Sat 12pm-4pm

Sun Closed
Hand sanitizers will be available at entrance/exit and at checkouts.
All credit/debit card transactions will be contactless. Customers will self-swipe their credit cards and credit-card machines will be sanitized after each use. Apple pay and Samsung pay also are accepted at the pin pad.

MOBILE APP
The UCF Gameday app is your home for UCF Baseball digital tickets!

Through the UCF Gameday app, available on Apple and Android devices, your game tickets can be conveniently accessed and managed.

Visit UCFKnights.com/app for more information and answers to some of the most frequently asked ticket-related questions. The app has been updated with a new user-friendly option to access your tickets well before you arrive at your gate. All fans are encouraged to activate push notifications for important in-venue game day messaging and exclusive content such as discount offers, in-stadium contests and more.

PARKING INFORMATION
There are a number of surface lots and a parking garage surrounding John Euliano Park to accommodate game day crowds.
Garage F: free parking unless there is an event at Addition Financial Arena

Baseball Lot: surface lot located directly behind the baseball outfield

E8, E6, E7: overflow surface lots for when a capacity crowd is expected

PREMIUM SEATING
The 300-seat premium club section located on the second level above the first-base line, includes padded outdoor seating and indoor amenities, such as an open air-conditioned lounge with additional seating, a complimentary buffet, an exclusive full bar, TV's, private restrooms and a dedicated entrance to the space.
Premium Season Ticket Members in the Baseball Club will receive (2) drink coupons per season ticket that can be claimed for beer, wine, or Coca-Cola products.
For questions or concerns regarding premium seating at John Euliano Park, please feel free to contact Holly Kaminski, Director of Knights Hospitality, at hkaminski@athletics.ucf.edu

PROMOTIONS
Promotions for Baseball are listed below and subject to change.
2023 UCF Baseball Promotions
2/17: Opening Knight & 50th anniversary celebration
2/18: Citronaut Saturday EVERY Saturday
2/21: Marti Gras Trivia & Trading Card give away
3/05: 305 Day (in celebration of the 305 and its community at UCF)
3/7- Boy Band Trivia Knight & Trading Card giveaway
3/10- Knight at the Office
3/14-Triva Knight & Trading Card Giveaway
3/17 – St. Patrick's Day (9 innings of winning)
3/18 Citronaut Saturday & Alumni Day
3/26 Bark in the Park
3/31- Top Gun Knight
4/18- Baseball Movie Trivia Knight & Trading Card Giveaway (Sport Clubs & UCF Global)
4/28- Holiday Game
4/30- Bark in the Park
5/2- Are you Smarter than a 5th grader Trivia Knight & Trading Card (Teacher Appreciation Day)
5/16- Senior Trivia Knight and Trading Card Giveaway
* All promotions subject to change

SEATING MAP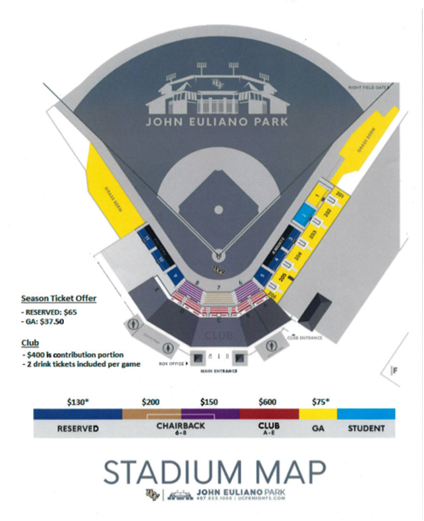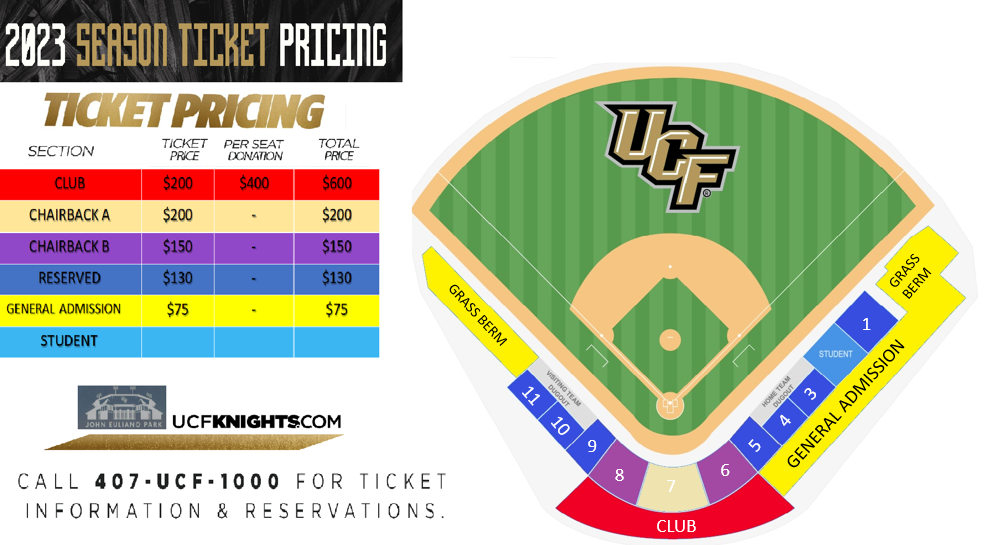 STUDENT INFORMATION
All currently enrolled UCF students receive free admission for all regular season home games.

Arrival, entry and seating
All seating is first-come, first-served, and it is recommended students arrive early.

Students will be allowed to enter at any entrance.

Students must have their valid UCF I.D. to enter.

Student seating is in section to the immediate right of the home dugout.

TICKET SALES
The 2023 schedule features home games highlighted by Florida State, Maryland, and Georgia Southern visiting John Euliano Park! All season ticket members will receive seating priority for the start of Big 12 play next year.

Season tickets are available starting at $75 online HERE or by calling the UCF Athletics ticket office at 407-823-1000

Single game tickets are now on sale HERE

VARSITY KNIGHTS
ONCE A KNIGHT, ALWAYS A KNIGHT!

Varsity Knights was established to welcome home all former UCF student-athletes. Join today to receive a benefits package, access to indoor/outdoor home tailgates, and stay up to date with the latest in UCF Athletics.

Contact varsityknights@ucfathletics.org or click here for more details about Varsity Knights and the benefits of being a member.